What was the best year ever in the entire history of Pop Music?  1966?  1979?  Pop's best year was probably whatever year you turned 18.  Aside from that, it's interesting to note that experts agree – it was 1984.  Billboard, and Rolling Stone both chose it as the pinnacle of recorded popular music.  Here's how the New York Times summed it up on 12/30/84.  An argument could be made however, that 1982 was, if not the best, then perhaps at least as exceptional, groundbreaking, and important a year as '84.

1. "More Than This," Roxy Music – Avalon

Roxy Music released their final album in 1982.  Their debut was exactly 10 years earlier, when they pioneered the look and sound of glam rock.   Avalon eventually reached platinum-certified status.  Roxy Music were inducted into the Rock and Roll Hall of Fame in 2019.  "More Than This" has been covered by numerous artists from Norah Jones to Blondie, to Bill Murray in the movie, "Lost in Translation."  For a band that began as an outrageous and flamboyant experimental rock group, it's fascinating that they ended their career with this poignant, well-loved ballad, which has endured as a modern classic.
2.  "I Confess," The English Beat – Special Beat Service

The Ska band from Birmingham UK released three albums, one each in '80, '81' and their final in '82.  Many music critics cite Special Beat Service as an all-time favorite in the "deserves greater recognition" category.  Their early songs were mostly political, but eventually songs like "I Confess" exhibited mature insight into complexities of adult relationships with sophisticated wordplay, while maintaining the edgy energy of their early music.  Bands such as No Doubt in the 90's, and Vampire Weekend in the 00's would be greatly influenced by The English Beat.  Many of the tracks would be played on college radio, and the album gave them their biggest hit in the States with the jangly "Save It For Later."
3.  "I.G.Y." Donald Fagen – The Nightfly

Steely Dan, the duo of Walter Becker and Donald Fagen, sold millions of records in the 70's, pleasing everyone from mainstream Top 40 radio listeners to detail-obsessed music critics.  Their final album, Gaucho (1980) was their last for 20 years.  Fans were curious and intrigued to hear Donald Fagen would be coming out with a solo album in 1982.  The first song on the album, "I.G.Y," refers to the International Geophysical Year (July 1, 1957 – December 31, 1958), a period of international earth-science research.  The whole album is a nostalgic review of Fagen's years of growing up in the late 50's and early 60's, a time of optimism and belief that new technology would make the world a cleaner, brighter and safer place.  The technological advancements in recording in 1982 were pivotal to The Nightfly, as it was one of the first commercially produced albums to be recorded entirely digitally.  The engineers on the project found digital recording so challenging they attended classes at the 3M headquarters to learn more about it.  The difficulties with digital audio were such that they were on the brink of going back to analog tape, when they agreed to persevere, and the result is one of the most beautifully recorded albums in history.  The clarity, definition, and precision, along with a natural ambience of lifelike presence, makes it even today a landmark for the most demanding audiophiles.
4.  "I Have the Touch," Peter Gabriel – Security

Released only a few weeks before Fagen's The Nightfly, Peter Gabriel's fourth album, titled Security in the US, was also recorded fully digital.  Using mostly electronic sounds, samples, and African percussion, the sessions relied extensively on the Fairlight CMI, a digital audio workstation.  The Fairlight had 28 megabytes of memory, and only produced 8bit audio samples, but even at the cost of about $40,000 (over $100,000 in today's money) it was a surprising commercial success, being quickly snapped up by musicians as diverse as Stevie Wonder, Herbie Hancock, Joni Mitchell and Kate Bush.  As musicians embraced this cutting edge technology, they also began to question their reliance on machines, and how it might negatively impact human interaction.  A longing for primal experience is central to Security. The album is filled with references to Jung, Native American culture, Voodoo, and other myths and customs.  "I Have the Touch" most explicitly signifies the need to acknowledge that we are physical bodies, emphasizing the centrality of human contact to our experience.
5.  "O Superman,"  Laurie Anderson – Big Science

In 1982, it seemed like almost anything was possible.  The year before, an avant-garde performance artist from NYC had a surprising hit on the UK pop charts with an 8 1/2 minute spoken word single called, "O Superman."  The next year, Laurie Anderson was on the cover of the Sunday NY Times Magazine, having signed a 7-album record deal with Warner Bros., which released her first album, Big Science, in 1982.  She always saw herself as a sculptor who liked to tell stories, but from 1982 to the present she has been seen by most people as a technology wizard and visionary observer of the world.
6.  "The Message."  Grandmaster Flash and The Furious Five.

Joseph Saddler was born in Barbados, but his family moved shortly afterwards to the Bronx.  Joseph was fascinated by his dad's extensive record collection.  Soon after graduating high school in the mid 70's, he was spinning records for parties as a professional DJ.  Now known as Grandmaster Flash, he made innovative use of the same record played on two turntables.  He was able to cut and paste different parts of any song to extend its length.  He gathered a group of rappers to improvise spoken word performance over his extended mixes.  As a group, they were now known as Grandmaster Flash and the Furious Five.  The group is credited with calling their music "Hip Hop."  Rapping at the time was derived from the "toasting" of Jamaican musicians, which was generally just humorously exaggerated boasting and bragging about oneself.  In 1982, they worked on a single called "The Message," describing daily life in NYC, which at the time was rampant with violence, crime, drug addiction, garbage, poverty, and a crumbling infrastructure.  People outside of the experiences described in the song began to take note, and "The Message" became an iconic statement.  In 2002, it was one of 50 recordings chosen by the Library of Congress to be added to the inaugural edition of the National Recording Registry, the first hip hop recording ever to receive this honor.  Flash was inducted into the Rock And Roll Hall of Fame in 2007.
7.  The Dreaming.  Kate Bush.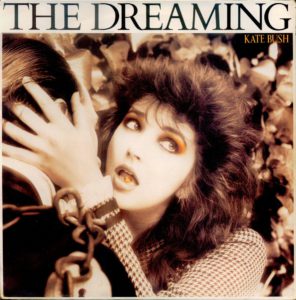 Possibly the most extraordinary, visionary, and oddest, left of center, album from 1982 was Kate Bush's The Dreaming.  The album is always a fan favorite, and Kate's personal favorite.  It's maybe the only album on this list that actually accrues more importance with each decade that passes.  At 24, it was already Kate Bush's fourth studio album, and her declaration of independence, as she took charge of the production and recording by herself.  At only 19, Kate had reached #1 in the UK, selling a million copies of her debut single, "Wuthering Heights," making her a national celebrity.  By 1982, Kate felt constrained by the image carefully constructed for her by EMI, of a dreamy girl singing pretty, romantic ballads.  She had feelings and inspirations that were begging to be expressed, and they weren't going to be nice and polite.  In fact, it was going to get ugly, and she wanted to go there alone.  After two years of work, she delivered the final album to EMI, but when they heard it, they came very close to passing on it.  The few singles from the album charted but quickly peaked, and the album was Kate's lowest-selling. The songs demanded a tremendous amount of commitment from listeners, and the subject matter was at times obscure, or challenging.  Kate addressed this in an interview a month after the album was released:

Time has allowed The Dreaming to find its place in music history.   NPR ranks it as the 24th greatest album ever made by a female artist.    It's included in the book "1001 Albums You Must Hear Before You Die," and   Mojo's "Top 50 Eccentric Albums of All Time."  Musicians from  Björk to Hip Hop producers have cited The Dreaming as an inspiration.  Kate Bush's influence on the 21st century's pop music is so pervasive at this point it's impossible to even quantify.  In fact, Rolling Stone cites Kate as one of the biggest influences on music of the past decade. 
The first single from The Dreaming was "Sat In Your Lap," about the pursuit of knowledge, and the frustration of realizing – the more you know, the less you know.

The title track, "The Dreaming," was the second single, representing the abuse of the ecology and aboriginal people of Australia by commercial developers in pursuit of uranium ore.

Kate Bush is certainly loved worldwide, and in the UK she has a high profile celebrity status.  In 2013 Kate received a CBE for services to music from Queen Elizabeth at Windsor Castle.  Kate had performed extensively in 1979 to promote her first two albums.  She never performed live again, until 35 years later in 2014, when she booked an astounding 22 nights of performances at London's Hammersmith Apollo theater.  All 22 shows sold out in only 15 minutes!