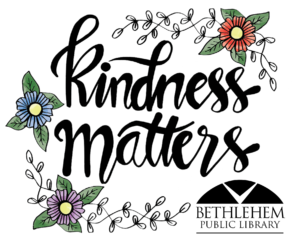 "A single act of kindness throws out roots in all directions and the roots spring up and make new trees." – American aviator and explorer Amelia Earhart
Kindness matters. And you matter to us. That's why the library will be spending the next few weeks sharing acts of kindness that we hope will generate happiness within our community that radiates outward to touch as many people as possible. Our Kindness Matters campaign is generously co-sponsored by the Friends of Bethlehem Public Library. 
We're inviting you to share acts of kindness you've experienced or been a part of by tagging the library on social media using #BPLKindness.
Our Boredom Busters for Books to People were recently delivered. Books to People is available to homebound residents of the Bethlehem Central School District and can be especially helpful to those who need to take extra precautions to avoid exposure to the Coronavirus. With Books to People, selected materials are delivered (no contact!) every other week via the library van. Click here for more information.
You might also find some special surprises in your Book or Media Bundle request, along with personal notes from library staff. Click here to request your Book or Media Bundle.
We also gave out some Kindness Kits for Kids, which included a free book to keep and one to give to a friend, along with other crafts and fun activities.
During this time, we encourage you to connect with others by paying kindness forward. Sharing kindness with others is just as rewarding as receiving it. Let's start 2021 off with kindness!