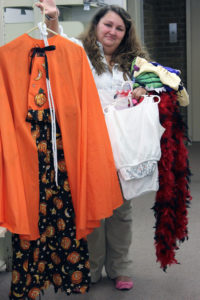 Got an outgrown costume or one in good condition that you just aren't using? Trade it for one that's new to you at Bethlehem Public Library's Costume Swap.
Drop off your gently used costume(s) between Monday, Oct. 1, and Thursday, Oct. 18, and receive a ticket to pick out a different one on the day of the swap, which takes place Friday, Oct. 19, from 5-7 p.m.
Re-purpose those outgrown get-ups and save some money while you're at it. The library is accepting costumes in all sizes – from infant to adult.  Please note that the library can't guarantee fit or selection. You can drop off a costume even if you're not interested in choosing a new one. Once donated, costumes cannot be returned; remaining costumes will be donated.
Check out the clip below from last year's spot on Spectrum News!
Want to swap out your child's old costume for a new one? Geoffrey Kirkpatrick from the Bethlehem Public Library is here to help. Watch and #Share

Posted by JoDee Kenney on Tuesday, October 17, 2017