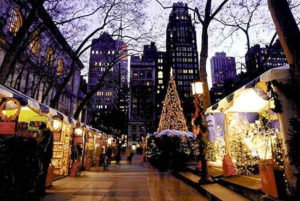 The Friends of Bethlehem Public Library are once again sponsoring a trip to New York City on Saturday, December 3. The bus will leave CDTA's Delaware Avenue park-and-ride lot in Elsmere next to The Warbler Brewery at 7:30am. The bus will depart New York City promptly at 6pm. Bryant Park is the arrival and departure point in New York.
If you are ordering matinee theater tickets, be sure to ask the time the performance ends so that you will be on time to depart.
The cost is $45 for members and $50 for nonmembers. For more information, call (no texts) Patty Caporta at (518) 439-1328.
Make your check out to Friends of Bethlehem Public Library and send it with the form here (pdf) to:
Friends trip to New York City
c/o Bethlehem Public Library
451 Delaware Avenue
Delmar NY 12054